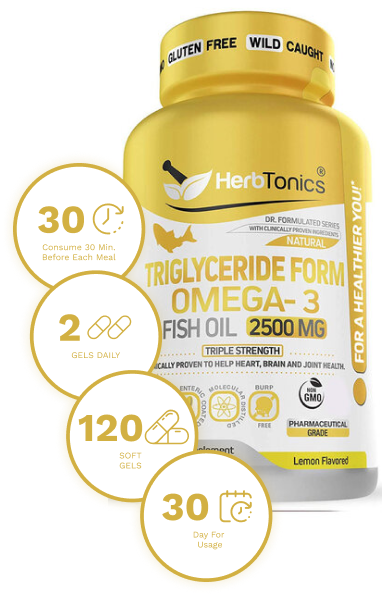 Purpose :
30+ fatty acids ensure you research-backed benefits from our complex
Helps heart, brain, and joint health
Lemon flavor enhancement to ensure you no fishy aftertaste!
SCIENCE:
Triple Strength:
Our potent formula of EPA 900mg and DHA 600mg provides you with a combined total of 2500mg of wild-caught fish oil
Triglyceride Form:
Ultra-pure refined fish oil with molecular distillation absorbs 70% more when compared to ethyl esters.
Gluten-free, NON-GMO, and Vegan:
Our supplement is backed by 100% all natural ingredients which are gluten-free, non-GMO, and vegan. Easy, effective, and essential.
★★★★★

I am a fitness nut, medical professional, and health advocate. I have had not the greatest cholesterol since my 20's along with a family history of CAD & PVD. I have been worried about my cholesterol increasing despite dietary changes.(granted I was finishing my MSN program, which was very stressful). I am not a fan of statins In heathy women, such as myself as cholesterol is your taxi cab for hormones and vitamins, and cholesterol is needed for cell membranes. I know I have no coronary plaque as my coronary calcium score was ZERO! I began taking this fish oil in January. I did not modify my diet or workouts. As I am already health conscious and I workout 5-7 days a week cardio and weights. This product increased my hdl to 58! It has historically been in the lower 50's. I am a true believer in this product

Verified Purchase

1 Person Found this Helpful
★★★★★

Last month my GP recommended I get on Fish Oil to help manage my cholesterol. She wanted me to use a natural, non-synthetic brand. I searched around and found HerbTonics Triglyceride Form Omega-3 Fish Oil. It's all natural, wild caught fish oil. The price was fair, so I decided to give it a try.
While the individual pill is large, it is very easy to swallow. I was wondering if there would be any fishy after taste or if the product would cause burping, but it does not cause any discomfort at all.
I would definitely recommend this product to anyone needing to take fish oil for their health.

Verified Purchase

4 People Found this Helpful
★★★★★

I love that the fish oil used in the supplements are wild caught. My triglycerides numbers went down over 400 points. Along with a somewhat of a diet change. I especially love how there is no after taste. No belching fish oil all day long. I am so grateful my doctor recommended this product. Thank you Herbtonics for caring about my health and making my maintenance of my hereditary disease more pleasant to maintain.

Verified Purchase

2 People Found this Helpful
*Individual results vary, and specific results are not guaranteed.