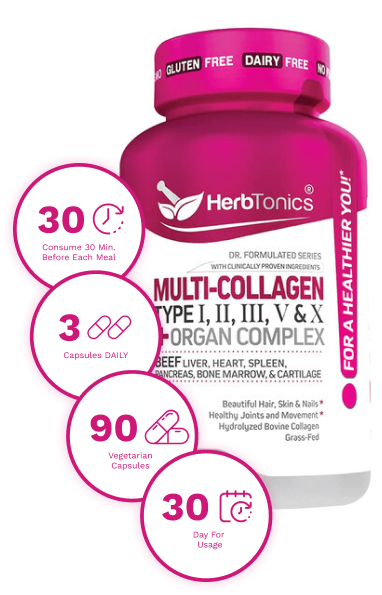 Purpose :
Supports bone & joint health
Excellent for skin health
Promotes healthier skin, hair & nails
SCIENCE:
Hydrolized Bovine Collagen Peptide:
When type I collagen is subjected to the hydrolysis process, bovine collagen peptide is produced. It is used for improving skin, joints and gut.
Calcium Fructoborate:
Naturally found in fresh fruits and vegetables, Calcium Fructoborate contains boron and aids in increasing joint comfort and flexibility.
Tengoguard:
A highly effective formula constituted of collagen Type I, Type II, Type V and Type X in addition to a number of natural and effective compounds to increase joint mobility.
Eggshell Membrane Collagen:
A helpful ingredient packed with amino acids and Vitamin E. It is used for promoting mobility and reducing joint pain along with boosting skin health
★★★★★

I have been taking this product for 2 months now, realizing that it takes at least 3-4 weeks to see results. Firstly, I wish more people would add their age or something specific about them so others can relate. I am a 62-year old female and, sadly, most of us have thinning hair as we age and mine was very thick when I was younger. I am noticing that my hair is not falling out nearly as much and getting thicker. I also believe my facial/neck skin is more radiant and healthier looking. I have always had very healthy, quick-growing nails so that does not count for me; but overall, I feel I am seeing very positive results and recommend this product.

Verified Purchase

11 People Found this Helpful
★★★★★

This is the only multi-collagen supplement I have found that includes organ complex, which is essential for immune health as well as skin, bones, joints and hair. I am on my 2nd bottle now and am experiencing improved joint function, and I have arthritis and osteoporosis, so this is very important any time I find a quality supplement that truly helps me. I've noticed improvements in my skin and noticeable hair growth. I love this supplement and will continue to buy.

Verified Purchase

13 People Found this Helpful
★★★★★

I had been looking for a good organ supplement for a while since I can't stand the taste of organ meats but wanted the benefits of them. I ran across the Multi-Collagen + Organ Complex and decided to give it a try due to the fact it had several types of collagen, plus the organ complex I was interested in finding and it comes from good sources and is 3rd party tested! I have noticed stronger nails and my hair is softer, smoother and has grown like crazy! The combination of the collagen plus organ complex has made a huge difference in my energy, hair, skin and nails. Something both collagen and organ nutrients provide. I will continue to take these supplements because I am pleased so far with the outcome!

Verified Purchase

9 People Found this Helpful
*Individual results vary, and specific results are not guaranteed.